Boston Immigration Attorney Maude Laroche-St. Fleur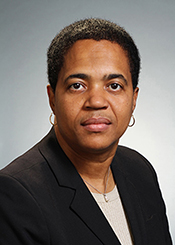 Ms. Laroche-St. Fleur is the Founder & Manager of Laroche Law Office, LLC. Growing up in an environment where lawyering was both disdained and spoken of in very high regards, Ms. Laroche-St. Fleur had love-hate feelings toward the profession. She was influenced by the former and never inspired to become a lawyer.
Ms. Laroche-St. Fleur earned a Bachelors of Science degree from Stonehill College. While pursuing her undergraduate studies, she worked in the Human Services field ensuring that individuals with cognitive disabilities led an integrated life in their community. She went on to work for the Commonwealth of Massachusetts in that same capacity.
Then, at some point in her life, the unpredictable happened. Ms. Laroche-St. Fleur had a sudden urge to attend law school. She found herself not only being in law school, but also overcoming all odds that come with switching careers and having a family to realizing a dream that began as a love-hate relationship but grew to a full blown all love relationship with lawyering. Ms. Laroche-St. Fleur earned her Juris Doctor degree from the Massachusetts School of Law.
Ms. Laroche-St. Fleur loves helping people solve problems, including when all hope seems to be lost. Complex tasks boost her determination to test and conquer challenges. And she is committed to using relentless efforts to achieve results.
Ms. Laroche-St. Fleur clerked for the District Attorney's Office at the Dorchester District Court. In addition to private practice, she volunteers to represent clients in Immigration Court and on appeal to the Board of Immigration Appeals. She also volunteers for the Massachusetts Immigrant & Refugee Advocacy Coalition (MIRA) Citizenship Clinic assisting individuals who want to become United States citizens with the application process. In addition, she volunteers for the Women's Bar Foundation providing legal services to clients.
Jurisdictions Admitted to Practice
Massachusetts Supreme Judicial Court
United States District Court, District of Massachusetts
United States Court of Appeals for the First Circuit
Professional and Bar Association Memberships